This is Juan Carlos Yu, M2 student at IMD lab.
I, together with Igor Almeida (PhD student, IMD lab) recently participated in 3DUI 2012 held in Orange County, California from March 4 to March 5. We also attended the IEEE VR 2012 conference from March 6 to 8.
We had a bit of trouble getting to California. There were a lot of delays and some system malfunction that extended our traveling time. However, I was too nervous for the conference to even notice that I was very tired. It was my first time to ever join a conference so I did not really know what to expect.
The Conference
My submission was accepted as a poster and because of that I had to make a 50-second presentation that would introduce my poster. It sounds easy but just looking at all the brilliant minds in that room made me really nervous. Igor was able to put on a show but I was not as relaxed as him. Luckily, I was able to get through that 50-second presentation.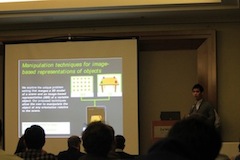 Through out the conference there were numerous talks. I was extremely interested in two talks: 1. Immersive 3DUI on One-Dollar-A-Day and 2. the talk during the banquet by David J. Kasik. I found these two talks interesting because they focus on how to make the technology that we research about available to the public.
Aside from the talks, I was also able to interact with some of the participants of the conference. Some of them provided very insightful comments and some interesting questions as well. Overall, the conference was a great experience for me.
Orange County, California
Sad to say I don't own a camera that's why this blog post will be lacking pictures. The first thing I can comment on about the trip was the food. The food servings were very big. It is not a place to go if you want to be on a diet. The food was very tasty and some of my friends and family were able to bring me to the different burger places around the area. My favorite burger place is In-n-Out burger. They have a secret menu that will allow you to modify the contents or the size of your burger.
They were able to bring me to this place called the Yardhouse which is Bar and Restaurant. This is a good place for beer lovers.  This is because of the wide range of selection of beers on tap. They have around 130-250 tapsof beer from all over the world.
Lastly, the people were very cheerful and very warm. They would usually greet you on the street or in public places. It would be a nice place to visit again someday.
Overall, I enjoyed my first ever conference and my trip to sunny California.