The 18th Annual Conference of the Virtual Reality Society of Japan
Date: September 18-20th 2013
Place:Grand Front Osaka, Osaka.
Participants: 500
———————————————————————
Hello, this is Yuichiro Fujimoto, PhD student (D2).
The participation for this conference was the second time for me.
At this time, the conference was held at Grad Front Osaka which was built on this year's April.
Panel Discussion: Reconsideration about HMD
Presenters were discussing about a new head mounted display, "Oculus Rift"(http://www.oculusvr.com/) which was on sale lately.
I had regarded this HMD as a new type of HMD with the high-FOV (about 90 deg).
However, researchers or developers participated in this discussion told that there has been many such kind of HMDs
and they felt a sense of nostalgia by this HMD.
They also told that there were many problems about both the software and the hardware of current HMDs.
We have to consider about it in our researches, not just expecting developments of new cool HMDs in specific companies.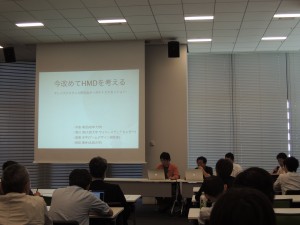 Keynote:
First keynote speakers is Masanobu Endo who created really famous and cool video games (XEDIOUS, The tower of Druaga, and so on, do you know?).
He made a presentation about the process to imagine new things and create it actually and put it out into the world.
Second keynote speaker is Zenichiro Kawasaki, a emeritus professor of Osaka Univ. who has been working on the research about the thunder and the lightning for 34 years.
I found him really love his research by his talk and thought that researchers who could love his or her own researches like him could become a famous researcher.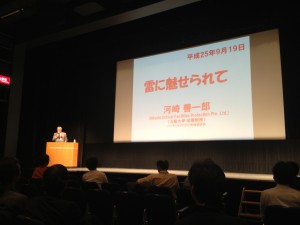 Demonstration:
The demonstration of IVRC (International collegiate Virtual Reality Contest) was also held at the venue. My favorite demonstrations are follows.
Virtual Rope Slider:
This system makes users a virtual experience using one of athletic facilities, a rope slider.
This system consists of a HMD with the high FOV, a chair for the vibration and an electric fan for making air, which makes the high reality.
Many people were waiting in the line in order to experience this demo.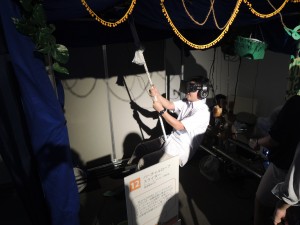 Gravitomin-Acid: a flavoring to change the weight of foods
This system can change the weight that users feel by foods.
At first, users shake the bottle of Gravitomin-Acid (an imaginary flavoring).
Then the location of the weight in a folk which user glabs gradually changes depending on the intensity of the shaking.
So users feel as if the weight of the food changes.
The concept of this demo is really attractive for me!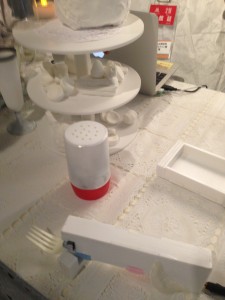 Next my blog is about ISMAR2013.