Hello all!
This is Luiz Sampaio, M2 student.
From the last days of September to the almost end of October, I was in Finland for internship at University of Oulu, belonging to research group of prof. Petri Pulli. It was a great experience in many ways, for the chance of visiting another research group and the chance of visiting an European country as well.
When I arrived there, the temperature was still quite comfortable (around +12°C) but after the third week it was already reaching -6°C, with sensation of -14°C! It wasn't snowing yet, but the golden autumn leaves made the landscape even more beautiful.
Following are some of my impressions about Oulu and Finland in general:
It's possible to use credit card for absolutely everything, including to pay the bus fee, which I think it's especially interesting, because it may cause some delay in the bus schedule.

People and nature coexist in harmony. Many houses seems to be built inside the forest.

It's easy to get fat. All dishes are big and delicious.

At the university's cafeteria, milk and home made beer (alcohol free, obviously) are available and beverages for lunch.

at the university's lobby, there are a lot of hangers where people can put their coats. It's really convenient because you don't need to carry your stuffs around the campus.
Additionally, for those ones who got used with the extreme kindness of Japanese people, and especially shop staffs, Finnish people can look a bit cold. It's really hard to catch a smile from them. However, I don't believe they are rude, I think the tough weather makes them just more reserved.
I made some local friends that kindly drove me to some places that are only possible to go by car. One of them is Hailuoto, an island near Oulu that usually is accessible by ferry, but during the winter an official ice road over the sea connects the island with the mainland. I also had chance to watch an ice hockey match, and as people say, it is definitely much more exciting to watch it in live than on tv.
About my assignments in University of Oulu, I made a website for prof. Pulli's research group. They have many members and many good work has been produced there, but they don't have any place where they can promote their results. I'm still waiting for the data from the researchers to upload to website, but you can check a draft version at http://mobileservicesdesignforall.co.nf/.
I also joined to a workshop promoted by University of Oulu, where researchers from Computer Vision and related areas presented some interesting topics.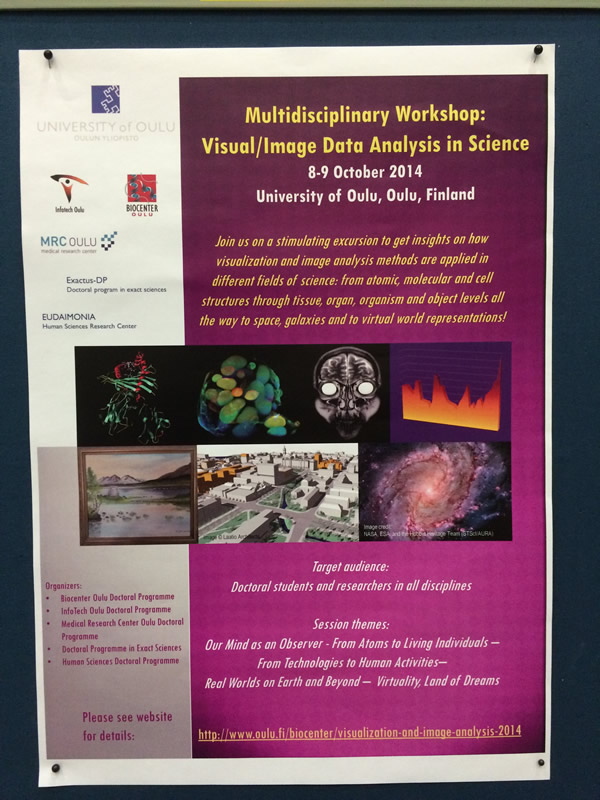 I am extremely thankful for all those could make this experience possible, especially the faculties in NAIST and University of Oulu. This is an experience and will be in my memories and I hope I can go there someday again to visit the friends I made.