Hello, I'm Yuto Inamitsu, M2 student.
happy New Year.
This is the first post in 2018.
Did everyone have a good New Year?
Speaking of New Year, dreams seen from January 1st to 2nd are called first dreams.
I am born and have never seen the first dream, but I am hoping that I can see the first dream this year tonight.
Aside from that, I'd like to report about attending to ISCA 2017 held at the Grand front Osaka Knowledge Capital Event Lab on December 1 and 2.
ISCA (INTERNATIONAL STUDENTS CREATIVE AWARD) is an international creative award for students from universities, graduate schools and vocational schools both in Japan and overseas.
There are three categories, "Domestic Video Content Section", "Overseas Video Content Section" and "Digital Content Section".
When I submitted my own research "AR Yōkai: A Situated Augmented Reality Ghost Story" at the "Digital Content Division", it was selected as a nomination work for this examination, and it came in with the carrying of the exhibition.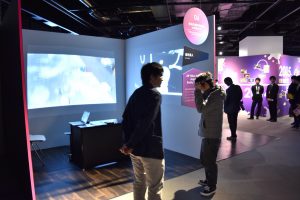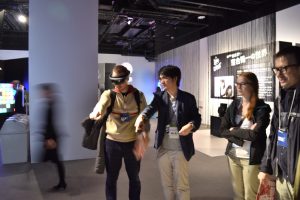 On the first day of the event, there was a review of nominated works by various jury members and an announcement of winning works.
On the day, I also made presentations of my work before the judges, I became nervous.
I was thinking "Would it be possible to win the prize?" while I participated in the award presentation, but my work was selected as an excellent prize!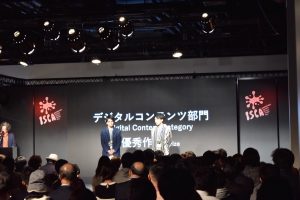 This time's excellent prize was not gained by my own power, it was the result that I could accomplish thanks to everyone who cooperated in this research.
I would like to take this opportunity to thank you! Thank you very much!
Also, the judges received encouraging words.
I am pleased to have an honorable prize!
After the ceremony, work screenings of "Domestic Video Content Section" and "Overseas Video Content Section" were held.
I'm taking storytelling as the theme of my research.
So I was impressed with quality quite contradictory to which work is not professional work, it was skillful to tell the story clearly, the beauty of the image, the cleverness of the production.
Also in the "Digital Content Division", an application called "Mitugibako", in which a smartphone Novell game scenario is unlocked at the same time as saving money, by linking a piggy bank with a smartphone app.
It was so unique.
And information on dead people worldwide to the virtual earth There are many impressive works, such as media art such as "Leaves" to display on infographics on top, and it inspired my own desire for creation.
Unlike my field, it is not surprising that people who regret their talent are gathering and presenting their works.
This time ISCA2017 has become an invaluable experience for ourselves.
In order not to be ashamed of the result of this time, I will try my best to work harder.