What is ISMAR?:
It is the premier international conference on research into the science, technology, applications and uses of Mixed and Augmented Reality.
Date: November 5-8th 2012
Place: the campus of the Georgia Institute of Technology, at Georgia Tech's Hotel and Conference Center, Atlanta, Goargia, USA
Participants: 350
Oral presentations: 28
Poster presentations: 35
Hello, this is Yuichiro Fujimoto, PhD student (D1).
ISMAR2012… this day finally came.
As mentioned above, ISMAR can be regarded as one of the top conferences in the field of AR/MR.
Since my paper was accepted as a poster presentation miraculously,
I, Marina-san (D3) and Prof. Kato participated in ISMAR2012 in Atlanta, Georgia, U.S. from Nov 5-8th.
Please allow me praise the conference since I was yearning for participating in it.
Participants can eat fruits, breads, snacks and so on and drink soft drink as much as they wanted!
Great! ISMAR!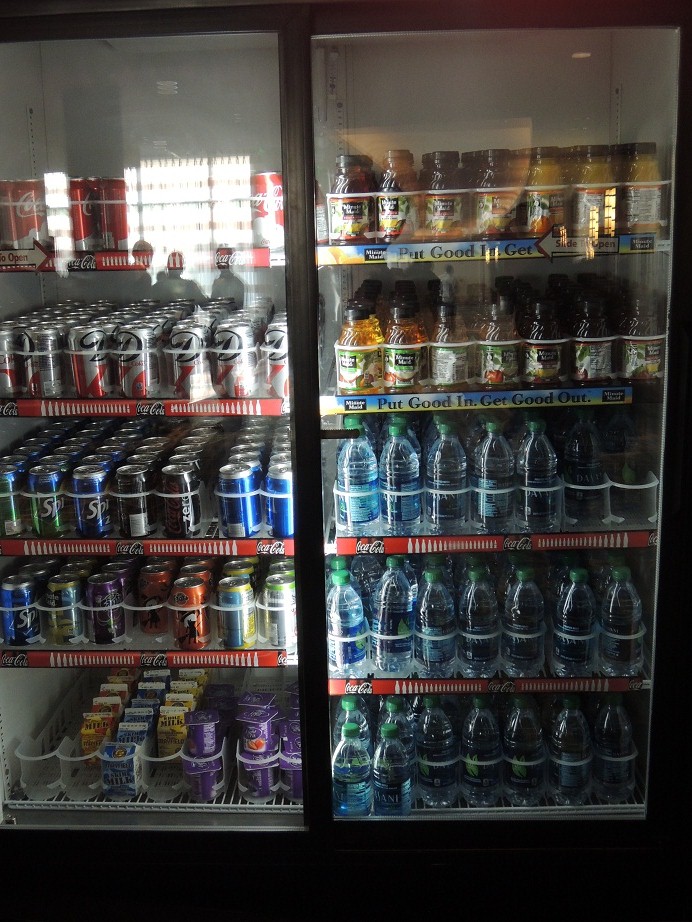 ————————————————————————————————————
Paper session (Illumination)
The following is the paper of which I had a high expectation before the conference.
Real-Time Surface Light-field Capture for Augmentation of Planar Specular Surfaces
Jan Jachnik, Richard A. Newcombe, Andrew J. Davison.
After reconstructing target objects using PTAM,this system captures light-field of its surface to simulate specularities in real-time.
I found this system works well and robust when I saw its demonstration.
To date, the sytem can use only planer surfaces. However, the author mentioned that
he has been trying to make it applicable to non-planer surfaces.
I would like to use its source code…
All of the presentations in this session were very interesting to me. I recommend you to check these proceedings.
————————————————————————————————————
Paper session (Interaction)
Needless to say, If a quality of a paper is high, a quality of its presentation is also high.
I could know more about the criteria that papers on AR interaction were acceptable as ISMAR papers.
I strongly recommend you to check these proceedings if you are going to do researches on AR user studies.
————————————————————————————————————–
Poster presentation
A little bit about my poster presentation.
A point on which I placed a high value when I made my poster for the conference was that the clarity of the poster structure.
Poster on the left is my poster (hidden behind me…).
It might look that it was made in only 30 minutes. But I did my best to make it simple and clear.
However, there were so many posters which were made considering various policies.
I found that clarity and simpleness is not the unique important point to take into account. I will make use of this experience for my next poster presentation.
Same as me, there were some participants who focused on the relationship between features of AR and user's memorization,
but I felt frustrated with my English skill, which did not allow me to discuss these topics with them freely.
————————————————————————————————————–
Each award
Best paper is…
Live Tracking and Mapping from both General and Rotation-Only Camera Motion
STEFFEN GAUGLITZ, CHRIS SWEENEY, JONATHAN VENTURA, MATTHEW TURK, TOBIAS HOLLERER.
As you can see in the title, this is about real-time tracking and mapping.
This system uses both a panorama mapping and tracking system and a keyframe-based Simultaneous Localization and Mapping (SLAM) system
in accordance with camera motions to support any type of camera motion in 3D environment.
In addition, another contribution is that when tracking become failure, system continue to collect and map data to merge them later.
Prof. Kato won the great prize!

10 YEAR LASTING IMPACT AWARD
Marker Tracking and HMD Calibration for a Video-based Augmented Reality Conferencing System
International Workshop on Augmented Reality (IWAR) '99
HIROKAZU KATO
MARK BILLINGHURST
AWARDED FOR THE SIGNIFICANT ACADEMIC AND COMMERCIAL IMPACT
OF THE ARTOOLKIT. AS THE MOST WIDELY CITED ARTOOLKIT PAPER,
THE RESEARCH PRESENTED IN THIS PAPER BROUGHT AR WITHIN THE
REACH OF COUNTLESS INDIVIDUALS AND HELPED MAKE THE FIELD
WHAT IT IS TODAY.
Congratulation! Prof. Kato!!
———————————————————————————————
American food
We had a very nice lunch at a BBQ restaurant, called Daddy D'z.
Kato-sensei, thank you very much for your treat to us.
I gained 2.5 kilos…
On the last day, I went to the Coca-Cola museum.
Needless to say, it is for my research.
—————————————————————————————–
I thought this participation a excellent opportunity for getting latest knowledge about AR/MR.
Thank you all for your support throughout paper submission, preparing slide and so on.
ISMAR2013 will be held in Adelaide (Australia) and paper submission deadlines are April.
I will try my best with my research even if it costs me my life to participate in it…